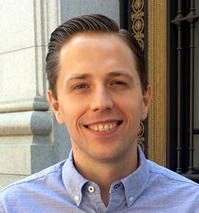 Email: patrick@ifroggy.com
Profiles: Twitter, Google+, Facebook, LinkedIn and SlideShare
Short, Third Person Bio
Patrick O'Keefe is the founder of the iFroggy Network, a publisher of websites. He has been managing online communities since 2000 and is the author of "Managing Online Forums," a practical guide to managing online communities and social spaces. Patrick blogs about online community at ManagingCommunities.com and hosts the Community Signal podcast.
Online Community is What I Care About
I've been managing online communities for 15 years, long before the term social media was coined, and have a unique depth of experience in the field of community management. It is a space that I am deeply passionate about. I regularly write and speak about the practice at conferences and events.
Social media is great, but community building is how you unlock the true power of these platforms. Online community is about people. Without the people who care about what you do, the tools of social media have little worth or meaning.
Writing

I wrote the book "Managing Online Forums," published by the American Management Association. It's a practical guide to managing online communities and social spaces. I'm honored to say that the book has been praised by many people I respect, including Ryan Leslie, Chris Brogan, Zack Urlocker, Lee LeFever, Jason Falls and Jay Baer.
This was followed by "Monetizing Online Forums," a resource for those looking to monetize their online communities in the right way. It was released for free, thanks to a sponsorship from Skimlinks. Unlike many free ebooks, it is not a marketing gimmick. It was in development for 9 months and is available with no strings attached – or email required.
Besides writing content for the iFroggy Network, including lead writer and editor responsibilities at ManagingCommunities.com, my writing has also appeared on ProBlogger, SitePoint, Social Media Explorer and SmartBlog On Social Media.
I wrote the foreword for "Building Online Communities with phpBB 2" (Packt Publishing), the first book ever published about phpBB and served as a technical reviewer for the book and its short form version, "phpBB: A User Guide." I worked as an expert reviewer for "Online Marketing Inside Out" (SitePoint).
Speaking
I have spoken nationally, delivering keynote or solo presentations and participating in panel discussions, via webcast and in person. Drawing from my first hand experience, I discuss issues related to online community and social media and how you can tap into the value that these spaces offer, personally and professionally.
Previous engagements have included CNN, Dell, FedEx, South by Southwest Interactive, Australian National University, Northwestern University and Syracuse University. For more information on my speaking philosophy, sample topics and testimonials from those that have seen me speak, please see my speaking page.
Podcasts and Hosting
I host Community Signal, a podcast for online community professionals. Previously, I hosted the .net Magazine Award winning SitePoint Podcast, a web development and online business podcast and Soda Tasting, a daily web video show dedicated to soda reviews with more than 300,000 views and 3,500 subscribers on YouTube. In total, I have hosted 675 podcast and web show episodes.
In addition, I've also appeared as a guest on numerous podcasts, video, radio and television shows and stations, including The Rise to the Top, Boagworld, WebProNews, Tech Talk with Craig Peterson, IBM's Future of Social Lounge, WIBW-CBS, WITN-NBC and PepsiCo's Digital Speak Easy.
Selected Press
The Rise to the Top: How "The One Man Operation" Patrick O'Keefe Became the Go To Resource for Building Online Community
Convince & Convert: Brand Community Managers Take Heed of "Managing Online Forums"
Entrepreneur: Why Forums May Be the Most Powerful Social Media Channel for Brands
Social Media Explorer: So You Want to Run an Online Forum?
WebProNews: Quora: What It Is and What It Is Not
Disclosures and Relationships
I adhere to the iFroggy Network Editorial Disclosure policy. In short, I sell advertising on my sites, use affiliate links wherever possible; including the use of services that automatically parse all links on a given page and accept free products, services, tickets, invitations, etc. When my writing relates to something that I have benefited from in this manner, I will disclose it in the article, to the best of my ability. My opinion is still mine and I'll provide it honestly.
I have worked with many companies in the online monetization space, from advertising networks to affiliate programs and more. This experience allows me to write authoritatively. If I am writing about a vendor, please assume I have worked with them in some capacity.
Skimlinks sponsored the release of my book, "Monetizing Online Forums." They paid me, but allowed me to maintain full, unquestioned editorial control over the work. They also gave away 10 copies of my other book, "Managing Online Forums," at a conference one and I appeared at their booth.
I hold stock in Amazon.com.