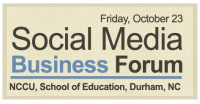 Just a few days after getting home from Blog World & New Media Expo in Las Vegas, it was time to hit the road for Durham, North Carolina, in order to attend the first ever Social Media Business Forum, organized by OurHashtag and held on October 23. Specifically, the men behind the event were Jeff Cohen, Kipp Bodnar, Ryan Boyles and Wayne Sutton.
Wayne is a good friend, so I really wanted to do the event, if I could, to support it. I'd met Kipp before and spent some time with him, as well. I hadn't met Jeff or Ryan, but by the end of the event, I'd spent some quality time with all four and they're a great group of guys.
This recap is coming out much later than I would have liked, but that's just how the schedule worked, unfortunately. At any rate, this is my detailed, personal experience at the event.
Thursday, October 22
I was under the weather, having just come down with something. But, the good news was that it hit hardest and fastest on October 20 and 21 and it was very tolerable for the duration of the event.
I live in Harbinger, North Carolina and it was around a four and a half to five hour drive to Durham. I stayed at the Durham Marriott and had a little trouble with the front desk. This caused me to not yet have been in my room by the time I was supposed to meet with Gregory Ng and David Millsaps to discuss our panel. But, besides having all of my luggage with me, we had a nice little chat and laid out some structure for the session.
There was a speakers only dinner being held at Tyler's Taproom in Carrboro, and Kipp was kind enough to drive both me and Jason Falls. Also at the dinner was Geno Church, Ryan, Gavin Baker, John Andrews and others. Afterward, we were supposed to do an improv class of sorts at Zach Ward's DSI Comedy Theater. Unfortunately, a bunch of people had to go and it got a bit late, so that was canceled. But, Zach was a speaker the next day and I got to speak with him at length in the morning, which was a lot of fun.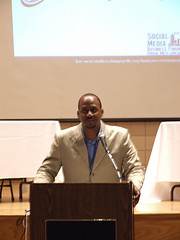 photo
credit:
Wayne Sutton
Jeff offered me a ride back to the hotel, and we had a great conversation on the way. When we arrived, Kelby Carr was outside, so we chatted a bit before heading in to talk some more with Jason, Geno and Jeff at the hotel bar.
That was pretty much the end of my night, socially. I headed back to the room and stayed up to watch the Yankees lose to the Angels. Not a great way to lose sleep. But, I managed.
Friday, October 23
Conference day. I had agreed to provide transportation for DJ Waldow, so we met up in the lobby and drove over. I aimed to get in a little early due to concerns about parking, but that didn't prove to be an issue at all.
As soon as we arrived, I greeted some folks, signed in, got my badge and met Laura Fitton very briefly. I grabbed a doughnut muffin, graciously provided by Crumb. It was good.
The morning welcome and conference intro got going late and ended late, pushing into the first sessions of the day – of which one was mine. Then I made it worse by going to the wrong room and losing about 5 minutes. I can't apologize enough for that.
At any rate, the session was "Advertising and the Social Web: Can it Work?" Gregory Ng and David Millsaps were on the panel with me. For some reason, I was having trouble getting my laptop hooked up to the projector, but Wayne Sutton jumped in and got it going.
I thought the panel – especially me – got off to a slow start, but that we finished strong. We had a nice discussion with the group and people seemed happy. I was happy to have met both Greg and David and had the opportunity to share the experience with them.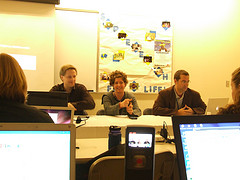 photo
credit:
Wayne Sutton
Following that, I attended "Who Should Own Social Media?" with Ilina Ewen, Jason Falls and Gavin Baker, before heading to my second and final panel of the day. It was "Building and Managing an Online Community" with Ryan Boyles and Laurie Smithwick. Even with our preparation being considerably low, I thought we had a good talk focused on four main principles of community: (1) roles, (2) structure, (3) participation and cultivation and (4) monetization.
It was time for a lunch provided by Piper's at the Park. I ate with Geno Church and Jason Peck. Good food, good conversation.
Programming resumed with the "The Future of Business on the Social Web" keynote panel featuring Jason Falls, Laura Fitton, Lucretia Pruitt and John Andrews. It was moderated by Jeff Cohen.
I decided to attend Geno Church's "Building Word of Mouth Movements" talk and I really enjoyed his style. From how he spoke about community and on cultivating it, I'd really like to share a panel with him one day.
My final two sessions of the day were "Using Social Media to Extend Offline Conversations" with Ryan and Jason Keath and "Web Video: It's More Than YouTube" with Greg, Zach Ward and Jeff.
After the conference was over, I stuck around, helped clean up (a little) and talked with Wayne, Jeff, Ryan, Kipp Bodnar, Jason Keath, Damond Nolan; the IT Manager at North Carolina Central University, where the conference was held (great venue), and Brian McDonald of SignalShare, who was behind the event's Wi-Fi.
An assortment of conference attendees decided to get together for dinner, including myself. The first place we went to was not going to work, so we went to Tyler's Taproom again – this time, the one in Durham. Other folks at the dinner included Lucretia, Ryan, Damond, DJ, Gavin and Allie Sullivan. I had a really great conversation with Damond before (we had to wait a while for a table) and during dinner. He went on to write really nice post referencing our conversation. Damond was one of the many great people that I met for the first time at the event.
A few members of the party decided to go to a haunted house after dinner, but I was ready to call it a night and it was back to the Marriott.
Saturday, October 24
I slept late because I could and it felt good (rhyme!). I put a quick call out for lunch in Durham or Raleigh and didn't get any takers. So, I made the drive back home, which went smoothly.
In all, I was really happy with Social Media Business Forum and, more than anything, I was pleased and proud for Wayne, Ryan, Kipp and Jeff because I know it must have meant a lot to them for it to go so well because of all of the time and work they invested in it. I was happy to have played my part and I thank them for giving me the opportunity to do so. I hope I lived up to what they were looking for and I would love to be a part of Social Media Business Forum 2010.