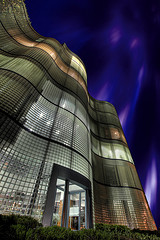 photo
credit:

country_boy_shane
Over the last few years, I've talked with a handful of companies about taking on some community or social media leadership role with them. Some of these names, you'd definitely know. Some of them you wouldn't. But, I am always really appreciative when someone thinks of me and willing to listen because I am definitely open to the right opportunity.
The majority of opportunities aren't right for me, but a few of them, I have considered more closely and spoke more with the people behind them. However, for various reasons, they didn't end up being the right move (for me, for them or both). In these cases, there is at least one issue that comes up that prevents it from happening.
I've been thinking about this more and more and what it might take to get me (at least partially) out of the entrepreneurial space and into a role at your company. And, with that thought, I've come up with a list of things that affect this decision. This is just for me personally and I don't mean any disrespect to anyone. Once again, I sincerely appreciate anyone who expresses interest in me or my work.
Salary and Benefits
Money isn't the only thing that matters, but it is important. It is something that has prevented me from considering at least a couple of opportunities.
Money is a sign of value. I have a unique, deep level of experience that not many people have and that I am very proud of. I have been directly managing online communities for 10 years and have been responsible for every aspect of this role. I am visible in this space, actively speak at conferences and events and have written a book that has been very well received, something I am very, very grateful for.
Given my experience and situation right now, I feel that I am worth a very competitive compensation package. I'm definitely willing to be creative, but I will find it very difficult to take average or below average money as I feel, in that case, I am not being properly valued. If there is a very distinct possibility of a long term payoff, I would be willing to consider it, however.
Benefits are part of it, too. If you aren't offering benefits (in a remote office situation, perhaps), it makes sense that the salary should account for that, seeing as I'll have to pay for things like insurance out of my pocket.
How can you tell what is normal for the community and social media space? Check out Forum One's "Online Community and Social Media Compensation" study. Or I have a copy and can share some relevant figures with you, privately.
Making a Smart Career Choice
Right now, I have a choice of where I want to go. I want to be careful not to make a lateral move or worse, a step backwards. For this reason, I'm not really interested in a Community Manager position, unless it is exceptionally unique and interesting, as I feel that would not be a forward step from where I am now. Really, I am looking at Director of Community, Director of Social Media, or a similar type of role.
I do not want to take a side step. I want to take a forward step, and I want to be challenged.
Authority and Having a Voice
As an entrepreneur, I have this innate desire to control my own destiny. I know that, in a larger organization, I am part of a team helping to create something great. But, since this is a list of things I value in considering a role with your company, one of the things that I do value is having authority and a voice in the things that affect me. I want to be heard and be a part of the process. I want to help.
Being an Entrepreneur
But, again, I have been an entrepreneur for a long time and I run the iFroggy Network. It's definitely a part of me and something that I would have a tough time giving up. I would like to work with someone who understands this, is comfortable with it and me having my own ventures and does not look down on that.
Time Flexibility
The ability to be flexible with my time is important to me. For example, my family goes on a vacation a couple times a year. When their schedule allows, I want to go with them and spend that time with them. Life is too short not to.
Don't get me wrong. I am a dedicated person and an insanely hard worker and anyone who knows me can vouch for that. But, I want to work with someone who understands the value and importance of family.
Seeing the Peripheral Value
Ideally, I want to work with someone who sees the value in the things that I do now, like speaking. I don't want the company I work with to see my speaking as taking my time away from them. Instead, I want them to see it as me furthering their brand, humanizing it and meeting more people face to face at events. Hence, building better relationships and community, which is an important part of business.
Working From Home
This is not a complete necessity, but the ability to work from home wouldn't be a bad thing. I am definitely open to that and to companies that have a sort of satellite office set up.
Conclusion
To take a role with a company would be a big move for me and a big jump. Especially as an entrepreneur. And, when I consider making such a jump, it is the factors above that I will think very carefully about. But, I am always open to discussing exciting opportunities and if you have one, please don't hesitate to contact me. Thank you for reading.