On Tuesday, Popular Science announced that they would not allow reader comments on new articles on their website, except on "select articles that lend themselves to vigorous and intelligent discussion." They will still welcome reader comments via their Twitter, Facebook, Google+ and Pinterest profiles, in addition to email, live chats and more.
Suzanne LaBarre, the online content director for the publication, explained that comments "can be bad for science," and that comments were having a negative effect on the work Popular Science tries to do. Namely, science. Unfortunately, when commenting on areas of interest that require expertise to understand, many (some would say most) comments are made by people who lack the experience needed to qualify them to offer an informed opinion.
I don't really think of a website shutting off comments as being a serious news story. Mainly because there are no shortage of places to comment on the internet. There are plenty of online communities where you can talk about science in a way that is just as meaningful. Or you can comment on another website. Or post on your personal Facebook, Twitter or Google+ (or take your pick) profile. You can start your own blog or your own website.
I've never really thought that the idea of turning off comments was a controversial one. We all have to make decisions when it comes to how much space we want to share with people and how much access we want to provide them with. If comments aren't adding significant value, you can shut them off.
No one has to allow you to comment on their website. No one is silencing you by not allowing you to do so. The opportunities for you to share your opinion, qualified or not, are copious. But, since a lot of outlets are picking this story up and many people are weighing in, I wanted to share a few thoughts.
Is Popular Science Divesting Themselves of Community?
By doing this, is Popular Science riding themselves of community? Are they demonstrating that they don't care about community? I don't think so. They are shutting off one outlet where people have engaged, not killing all outlets. You can still post comments on various other community oriented spaces, you just can't do it on their website.
Community doesn't require comments and they still have a community of readers who enjoy their work. And that community can still engage via other means, facilitated by Popular Science. So, to get this out of the way, I don't take this as Popular Science saying "we hate community."
What Could They Have Done Instead?
To reiterate, it's totally fine they decided to take comments off their website. This isn't really a right or wrong thing, not in my view. It's a strategic decision and a matter of opinion, more than anything else. It's a little like criticizing what color your neighbor painted their house. Yeah, maybe that yellow is tacky, but it's their house.
Still, obviously, I don't know what Popular Science tried previously in an attempt to improve their comments. Did they just open a comments section and say "here you go, kill each other!"? I doubt it, but I really have no idea. As far as what they could have done instead, Mathew Ingram of Paid Content and Andrew Beaujon of Poynter have some thoughts.
Ingram mentions that writers who moderate the comments on their own articles have a "consistently better community" than those who don't, so you could simply make moderation part of the writers job. I'm not sure how I feel about that. In some cases – small blogs, one author blogs, etc. – it definitely makes sense. But in other circumstances, it can't be done, volume wise. The writer could spend more time moderating than writing. I would think that science related content tends to lead to longer comments than you would see on the typical website. Also, it could create inconsistent moderation standards – one writer might moderate in a vastly different way than the next – so at the very least, some training and oversight would be needed.
Meanwhile, Beaujon links to an article by Michael Erard for The New York Times Magazine, where Erard highlights four ways to "improve the culture of commenting." He mentions user-driven moderation and wants the ability to "flag a comment or even a whole thread as a waste of time for other readers." And yet, that is an easy way to give any reader the ability to silence any other reader, in an instant, if it is completely user driven.
My Unsolicited Ideas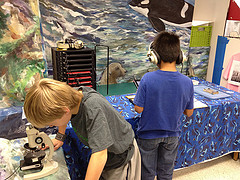 photo
credit:
Barrett.Discovery
For fun, I'll throw in a few of mine. I think it could be really interesting if Popular Science took comments off the articles and, instead, put them into a dedicated online community. Boing Boing did this recently, but many others do it and have done it for a very long time.
Establish a system of user accounts where someone must actually sign up to comment, have a dedicated team of people that can run the community and focus on its success. Have guidelines and moderate firmly in line with them, maintaining a consistent level of discourse. By taking comments off of editorial pages and by making people login, you force them to put a little skin in the game. It's not much, but it does count. And if your goal is to raise the quality of discussion, this puts you closer.
Finally, part of that community team's responsibility could be to verify some members who have credentials. Like Twitter has verified accounts. Identify certain community members as being uniquely qualified, give them distinction and display it for everyone to see. If you have an actual scientist in your community who is doing actual research, that is worth trumpeting. It's worth giving those comments more attention and allowing them to float to the top. Certainly there must be some qualified people commenting on their articles? If not, they have to have some contacts or connections. Let's invite them in or put out an open call.
You could even work comments back onto the articles by highlighting great ones and encouraging people to weigh in by clicking a link, which leads them to the thread on the community.
I realize, of course, that such an endeavor would take a commitment of budgetary resources. But if they had it, it could be fun to see how they could build out a science community under the Popular Science brand. Or if they can't launch a full blown community, just do what The New York Times does (in other words, do the work). Doing the work costs money, of course, and what this whole situation tells me (and I could be wrong) is that Popular Science was not ready to make community on their website a financial priority. That's fine. They'll be OK, but that doesn't mean they shouldn't take another crack at it in the future.