Posted by Patrick on January 30th, 2014 in
Off Topic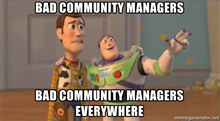 I was recently talking with Lionel Scaramal, the long-time manager of Forum-Auto.com for Caradisiac. Specifically, I asked him for perspective on the community management profession in France and the good things he sees, as well as the bad.
He mentioned that he regularly sees community managers bashing other community managers. I thought this was interesting and I asked him to tell me more. He was kind enough to write a guest post.
You know what really grinds my gears? It's what I will call "CM bashing." Community managers who often make a public show of pointing out and trumpeting mistakes made by other community managers.
In managing online communities, we all have users who think they can do our job better than we can. And many people think that because they are on Facebook, Twitter or your forums, they are entitled to provide poor, unsolicited pieces of advice. OK, I can understand that, to a certain extent.
Read More