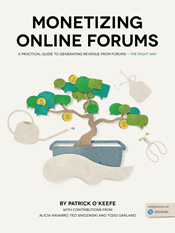 Monetizing Online Forums, the ebook that I authored that was published by Skimlinks in July of 2012, has now reached 20,000 downloads.
When I began to work on the ebook (when it was only expected to be 10-20 pages, rather than the 100 it ended up being), I didn't really have any expectations. I had never written a free ebook and, frankly, I didn't really want to. Most free ebooks just aren't particularly valuable.
I don't write stuff for list generation. I write stuff so people can feel empowered and not need to contact me at all. But Alicia Navarro and Joe Stepniewski of Skimlinks convinced me that I could do what I wanted, and treat it like my second book.
Read More