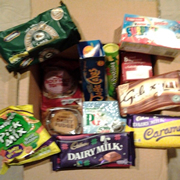 On December 24, I headed to the post office near closing time to see if a package had arrived. I was waiting on a box with a couple of gifts I had purchased for my brothers. I noticed that, when I checked my mail box, I had a key in it, which meant that I had a package in an even larger mail box waiting for me.
I opened it, but it wasn't the box I was expecting. It was a different box and it was from one of my moderators on KarateForums.com, named Danielle. I wasn't expecting anything, so it came as a total surprise.
After I made it home, I opened the box to find a card and an assortment of goodies from the United Kingdom, where Danielle lives. Along with a kind note, there were Jaffa Cakes, a Galaxy bar, Tesco Jam Roly Poly Toffees, Sprinty Kinder Surprise, a Cadbury Dairy Milk bar and more. All of which I have never had.
Read More