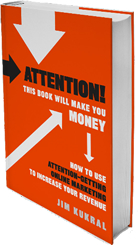 I've known Jim Kukral since June 2008 when I was booking interviews tied to my book. I shot him a note and asked if he'd have any interest in it or in having me on his show. Even though we'd never spoken before, he did and he eventually posted the first (and so far only) video review of the book on Amazon.com. That really meant a lot to me.
We've stayed in touch ever since. Now, Jim has a book of his own, titled "Attention! This Book Will Make You Money" and I'm happy to be able to support him and spread the word.
What follows is a guest post from Jim, with tips for engaging influencers within your community online (your site, the subject arena of your community, your area of expertise, etc.).
Read More