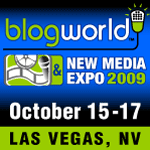 For the second consecutive year, I made the pilgrimage to the holy land that is Las Vegas for Blog World & New Media Expo, which ran from October 15-17.
Attending conferences like this is always a reunion of sorts where I hang out with people I already know and meet people face to face for the first time. Of course, there are plenty of new people, too, and opportunities to learn, share and have fun. I spoke on a panel and at a booth and had a book signing, as well.
One reason that this conference was different from every one that I have gone to before was because it was the first one attended by my brother Sean, a college student. It was great to have him with me during the event. For a majority of the time, I hung out with him and my friends Brandon Eley, Chrispian Burks, Stephan Segraves and Wayne Sutton.
Read More